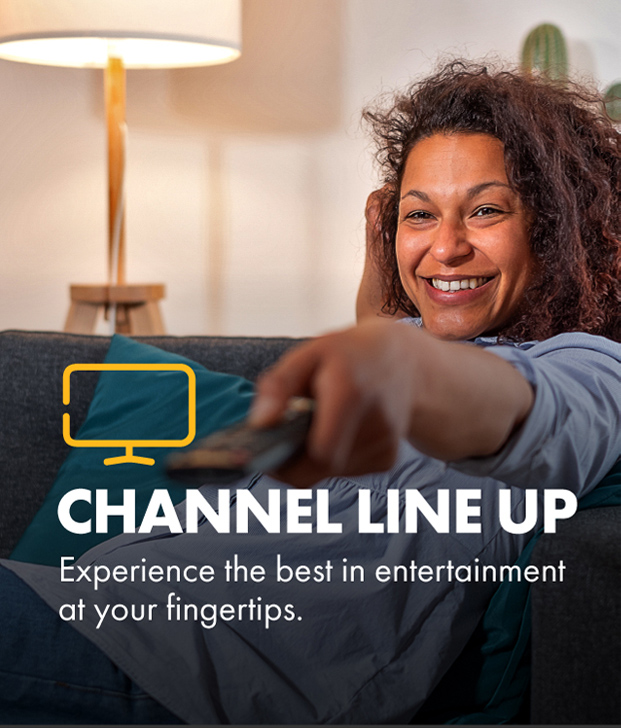 The promotion begins on May 1st and ends on June 30th.
The promotion is open to all customers who are legal residents of Barbados and aged eighteen (18) years or older.
a. By entering this promotion, participants warrant and represent that they are legal residents of Barbados aged eighteen (18) years or older.
b. In the event that this warranty and representation proves to be false, any prize(s) will be forfeited.
All customers meeting the criteria during the promotional period will have a chance to win.
Prize draw will take place on May 11, 2022 using the pool of qualifying customers from the promotional period.
The service must be active at the time of the prize draw for the potential winner to be declared the final winner.
There will be one prize of one iPad tablet.
In order to be declared winner, the potential winner should have all accounts with Flow in good financial standing.
Only transactions which occur during the promotional period, May 1st, 2022 to June 30th, 2022 will be eligible.
Each qualifying transaction will receive a unique entry to the prize draw.
To claim the prize, the potential winner must present a valid, legal form of photo identification (e.g. driver's license, passport, etc.).
Potential winners who are deemed to be eligible as per the criteria in the promotion rules will be contacted by a Flow agent in order to be declared a winner.
Flow employees, authorised agents, marketing agencies, contractors, business partners and associates, and their employees, and the employees and agents of sponsors of the promotion; and the immediate families of all such persons or groups are not eligible to participate in this promotion.
By participating in this promotion, the winners agree to allow Flow to use their name, image, likeness and/or voice in any media whatsoever including press, print, radio, and television, for the purpose of advertising, trade, or promotion without any further compensation whatsoever being due or payable to such winners by Flow, its parent company, or any of its affiliated companies.
If a potential prize winner cannot be contacted, or if the potential winner does not claim his/her prize, or if he/she is found to be ineligible, or if he/she cannot or does not comply with these rules, that potential winner will be disqualified, and an alternate potential winner may be selected at Flow's sole discretion.
Prizes are not transferable and may neither be exchanged nor redeemed for cash.
In order to claim and receive a prize, the potential winner will be required to sign Flow's Liability Release. Failure or inability to sign that release will result in the potential winner being disqualified and an alternate winner selected at Flow's sole discretion.
Flow reserves the right to modify, suspend, cancel, or terminate this promotion within its sole discretion and reserves the right to disqualify any entrant in its sole discretion.
By entering or participating in this promotion participants agree to be bound by these promotion rules. The decisions of Flow are final in all matters related to the promotion and no correspondence will be entered into thereon.
Flow's standard terms and conditions also apply.
This offer cannot be combined with any other offer.
Channel Lineup
| Channel | TV Essential | TV Plus | TV Max | TV Watch All |
| --- | --- | --- | --- | --- |
| 100 - VODBKR | | | | |
| 103 - CBC BARBADOS | | | | |
| 104 - ISLAND TV HD | | | | |
| 105 - BATV | | | | |
| 106 - GAYELLE | | | | |
| 107 - HYPE TV | | | | |
| 109 - SYNERGY TV | | | | |
| 110 - TEMPO | | | | |
| 111 - M&E TV | | | | |
| 112 - UWITV | | | | |
| 115 - MERCY AND TRUTH MINISTRIES | | | | |
| 116 - 3ABN | | | | |
| 117 - CHURCH CHANNEL | | | | |
| 118 - DAYSTAR TV | | | | |
| 119 - EWTN | | | | |
| 120 - TBN HD | | | | |
| 121 - TRINITY | | | | |
| 122 - HOPE CHANNEL TV | | | | |
| 123 - Universal Living Faith Network (ULFN) | | | | |
| 125 - CNN INTERNATIONAL | | | | |
| 127 - ABC HD | | | | |
| 128 - CBS HD | | | | |
| 129 - FOX HD | | | | |
| 130 - NBC HD | | | | |
| 131 - PBS HD | | | | |
| 132 - CBC TORONTO | | | | |
| 133 - CITY TV | | | | |
| 134 - TNT INTERNATIONAL HD | | | | |
| 140 - RUSH PRIME | | | | |
| 141 - BET CARIBBEAN | | | | |
| 143 - E! ENTERTAINMENT | | | | |
| 144 - MTV HD | | | | |
| 145 - FEVA TV | | | | |
| 146 - National Black Television | | | | |
| 147 - CALA WESTERN | | | | |
| 148 - CALA CLASSISCS | | | | |
| 149 - CALA WEATHER | | | | |
| 151 - BBC WORLD HD | | | | |
| 152 - BLOOMBERG HD | | | | |
| 153 - CNN US HD | | | | |
| 154 - CNN HEADLINE NEWS | | | | |
| 156 - MSNBC | | | | |
| 161 - CARTOONITO | | | | |
| 162 - CARTOON NETWORK LA | | | | |
| 163 - DISCOVERY KIDS | | | | |
| 164 - DISNEY CHANNEL LA | | | | |
| 165 - DISNEY JR | | | | |
| 166 - NICKELODEON HD | | | | |
| 167 - SMILE OF A CHILD | | | | |
| 170 - Oprah Winfrey Network | | | | |
| 171 - DISCOVERY CHANNEL | | | | |
| 172 - HGTV HD | | | | |
| 173 - FOOD HD | | | | |
| 174 - HISTORY CHANNEL HD | | | | |
| 175 - AWE | | | | |
| 176 - LAW & CRIME | | | | |
| 177 - SONY HD | | | | |
| 178 - CINEMAX | | | | |
| 179 - TNT SERIES | | | | |
| 180 - BRAVO HD | | | | |
| 181 - A&E HD | | | | |
| 182 - TURNER CLASSIC MOVIES | | | | |
| 183 - JUSTICE CENTRAL HD | | | | |
| 184 - LIFETIME MOVIE NETWORK HD | | | | |
| 185 - LIFETIME HD | | | | |
| 187 - TBS INTERNATIONAL | | | | |
| 188 - COMEDY CENTRAL HD | | | | |
| 190 - Flow Sports | | | | |
| 191 - ESPN 2 | | | | |
| 192 - ESPN HD | | | | |
| 194 - RUSH SPORTS | | | | |
| 195 - GOALS RUSH | | | | |
| 196 - FLOW SPORTS MIX | | | | |
| 201 - CLASSIC ARTS SHOWCASE | | | | |
| 202 - GAME SHOW NETWORK | | | | |
| 203 - DISCOVERY WORLD | | | | |
| 204 - DISCOVERY THEATER | | | | |
| 205 - CLEO TV | | | | |
| 206 - ANIMAL PLANET LA SD | | | | |
| 207 - TV ONE | | | | |
| 208 - DISCOVERY HOME AND HEALTH | | | | |
| 209 - DISCOVERY TRAVEL & LIVING | | | | |
| 210 - FYI HD | | | | |
| 211 - CURIOSITYSTREAM | | | | |
| 216 - SKY NEWS AMERICA | | | | |
| 218 - WPIX CW11 | | | | |
| 219 - LIFETIME REAL WOMEN | | | | |
| 220 - MY 33 WBFS HD | | | | |
| 221 - CalaAction | | | | |
| 222 - SPACE HD | | | | |
| 223 - WARNER HD | | | | |
| 224 - AXN HD | | | | |
| 225 - EUROCHN | | | | |
| 227 - RUSSIA TODAY | | | | |
| 228 - VICELAND HD | | | | |
| 229 - VH1 CARIBBEAN HD | | | | |
| 230 - PARAMOUNT NETWORK HD | | | | |
| 231 - TELESUR | | | | |
| 233 - THE AFRICA CHANNEL HD | | | | |
| 443 - FLOW SPORTS EXTRA 3 | | | | |
| 444 - FLOW SPORTS EXTRA 4 | | | | |
| 445 - FLOW SPORTS EXTRA 5 | | | | |
| 446 - FLOW SPORTS EXTRA 6 | | | | |
| 447 - FLOW SPORTS EXTRA 7 | | | | |
| 448 - FLOW SPORTS EXTRA 8 | | | | |
| 99 - Flow One TV | | | | |
| - STINGRAY MUSIC | | | | |